Caterham 7 – 2.0L XE
E-mail & photos below shown from 2003/4 season.
The car was built during the winter of 1998/99 and first registered in April 1999. Primarily it was intended as a road car which could double up as a trackday / speed event machine as required. The initial specification included a Ford 1700cc BDA engine running on 45DCOE weber carbs, 5 speed Ford gearbox and Ital based live axle. Soon after starting to seriously drive the car it was decided that fuel injection was an essential addition to solve several driveability issues. A 45mm parallel Jenvey / MBE throttle body kit was sourced from SBD and mapped by Steve in late 1999. The car completed the 2000 and part of the 2001 hillclimb seasons with the same basic setup before a serious internal engine failure meant a change of direction. 
Retaining the parallel Jenvey throttle bodies, MBE ECU and fitting a Vauxhall XE 2.0 litre engine seemed a sensible approach as the system worked very well on the BDA with good performance and minimal maintenance , Besides , Steve had been hassling me for years to change to a Vauxhall engine!. A good secondhand unit was purchased from a local breakers and fitted during the remainder of the 2001 hillclimb season, finally being completed in October 2001. The basic powertrain specification was to the SBD 196 kit with a few installation modifications of my own. 
The 2002 season proved to be a successful one. The car won the Hillclimb & Sprint Association Speed championship class for Modified Production Cars and came third in the up to 2000cc Modified class at the Brighton Speed Trials – still in roadgoing trim. Over the past few seasons the car had been used less and less on the road and during the winter was converted into a full racing specification.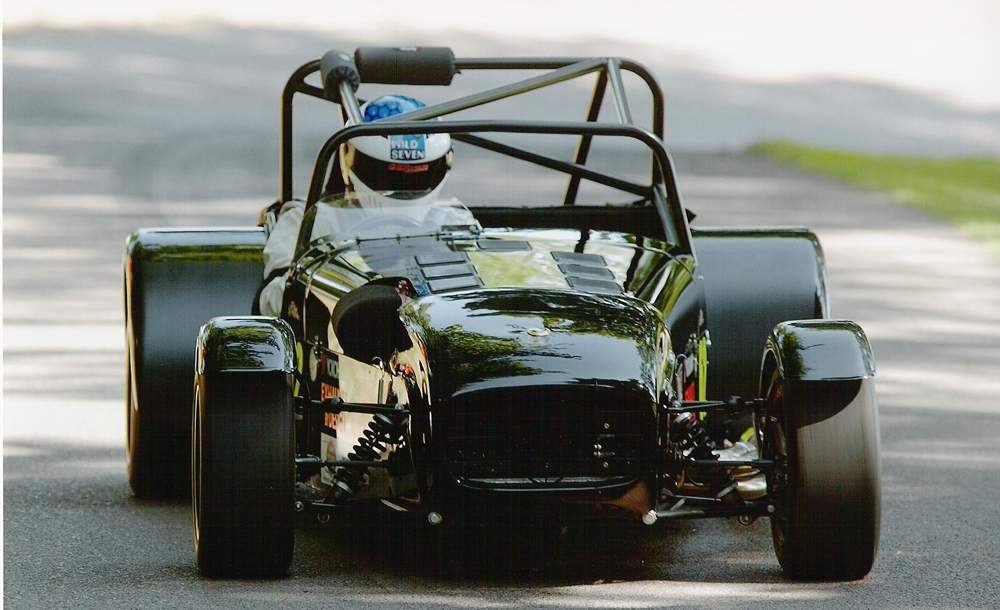 Simon's 2.0L Vauxhall engine specification 2003 season:
1999 Caterham Super 7
Vauxhall 2.0L XE engine
SBD 196 kit
48mm Parallel Jenvey throttle bodies
967 MBE ECU
ARP rod bolts, SBD lightened flywheel
Sprung paddle clutch , new 4/2/1 exhaust
Quaife 4 speed Dog engagement gearbox.
Ford English Axle , TranX 4.4:1 plate LSD.
Vented discs all round
AP Racing 4 piston front
2 piston rear calipers.
1 gallon fuel cell , Red Top 8 battery
custom made fuel / oil / electric systems.
7×13 , 10×13 Compomotive ML wheels
Yokohama Hillclimb Slick & wet tyres
Basically HSA 2 litre modified production car class championship win in 2003 & 2004.  
Class wins at Prescott / MIRA / Curborough / Gurston Down & Loton Park.
We heard in 2014 that the car was sold and went to Italy.