Cormeen Motorsport
Ivan Orr, engine builder in Northern Ireland uses our kits & parts for his customer's rally cars. His customers have been successful in rally stages over the years.
To contact Ivan Orr, Cormeen Motorsport, 79 Cormeen Road, Killylea, Co Armagh. BT60 4NA Telephone: 07713154015
Email received from Ivan in November 2008:
My engines won National Tarmac championship in 1600 16v With a guy called Anthony Hand & 1600 8v with Aaron McQade both in Ford Escort Mk2. Michael Faloon was the man to beat in the forest in 1600 16v ( 210bhp kit). Jim McKenna upgraded his engine to we reckon about 230 bhp and came 3rd in his class in Tour of Mull. Also Adrian Hetherington & Vivian Hamill had many top 10 & best 2wd finishes with 2.0 16v 290 kit in forest. Russell Woods won his class in his new upgrade to 290 spec in a clubman tarmac rally. Mervyn Wedlock won a quarry cross event out right in 270 high torque 2.0 and finished 2nd overall about 10 months ago and so it goes on, will try to get you some pics.
Jim's Toyota Starlet powered by 1.6L 16v Vauxhall engine.
Adrian's Escort MkII had our SBD Taper throttle body 250 bhp kit on his 2.0L 16v Vauxhall XE.
Lurgan Park Rally 2007
Picture: ngmotorsportimages
Mervyn's Escort MK2 with Vauxhall 2.0L 16v with our SBD taper throttle body 270 bhp kit.
Rainbow Telecom Loughgall Country Park Rally 2010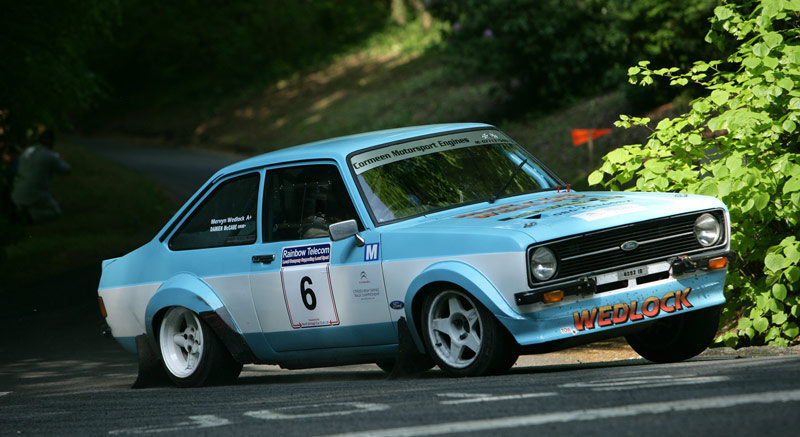 Vauxhall 2.0L 16v with our SBD Taper throttle body 270 bhp Kit – Gordon Rodgers, Oliver O'Reilly & Mervyn Wedlock
Vauxhall 2.0L 16v with our SBD Taper throttle body 250 bhp Kit – Paddy Boyle, Adrian Hetherington, Peter Rahill, Philip Hunter
Vauxhall 1.6L 16v with our SBD Taper throttle body 210 bhp Kit – Joe Doherty, Michael Faloon
TARMAC RALLY RESULTS 2006
Castle Single Stage 29-1-06
Gordon Rodgers – 3rd Overall
Oliver O'Reilly – 5th Overall
Galway International Rally 4/5th -2-06
Oliver O'Reilly – 2nd Overall National Rally, 1st 2 wheel drive
Mayo Stages Rally 05-03-06
Oliver O'Reilly – 2nd class 13, 23rd Overall
Midlands Rally 09-04-06
Gordon Rodgers – 1st class 13, 6th Overall
Mervyn Wedlock (car shown above) – 2nd class13, 17 Overall
Cavan Stages Rally 28-05-06
Oliver O'Reilly – 2nd class 13, 17th Overall
Gordon Rodgers – 3rd class 13, 18th Overall
Galway Summer Rally 27-08-06
Paddy Boyle – 1st class 13, 17th Overall
North East Stages Rally 03-09-06
Paddy Boyle – 1st class 13, 6th Overall
Gordon Rodgers – 2nd class 13, 7th Overall
Mervyn Wedlock – 5th class 13, 23rd Overall