Daytuner Performance
We supply MBE management systems & components to Damian of Daytuner Performance for many different projects.
Please check out Daytuner's Facebook page for lots of videos of a variety of vehicles.
---
November 2014
Email from Damian with pictures of Greg's Ford Escort Mk11 rally car.
Greg McKnight's Ford Escort Mk 11 which came to have the engine started, run-in then mapped. The engine is a SBD Vauxhall 1600 including ultra light crankshaft, Omega pistons, SBD con-rods and running an MBE967 ECU, but everything on the car as far as I'm aware is SBD. It is a really good specification rally car and when the mapping was completed it started really well, idled well and went like the clappers.
More information about Greg's Escort Mk2
---
March 2014
Graeme's 1300cc Hayabusa Turbo Garret GT 28 turbo MBE 9A4 ECU control, SBD carbon/alloy plenum fitted to Hayabusa throttle bodies. Amazing power delivery, flat torque delivery over a rev range of 4000 rpm an all round excellent package using SBD's parts and electronics.
---
Charlie & Justin's OMS 25 with MBE9A9 ECU giving electronic-pneumatic gearbox control, launch control and excellent power delivery.
---
February 2014
Jim Spencer's Reynard 883cc Kawasaki ZX10R 2009 FWD. Tuned motor brought to life by MBE 9A4 ECU. Remarkable 1 litre engine tune revving to 14000 rpm and producing superb power with fantastic driveability.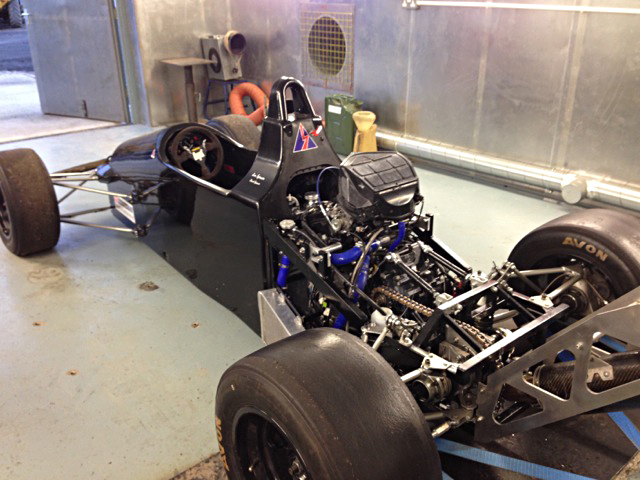 ---
January 2014
Jonathan's Force LM runs full SBD Supercharger kit and arrived for mapping last year, its runs on super unleaded fuel and produces excellent linear power all the way to the top of its rev range. You would not know that this was such a powerful car when it is idling, but then it delivers a seamless power rush that belies the capacity of the engine.
---
October 2013
The car is an MNR Vortex built by the customer Eddie Coxon, the Hayabusa engine has SBD parts including a dry sump kit and tank, electric water pump, SBD throttle bodies, 690 injectors, uprated oil pump gear and MBE9A4 ECU plus loom. Damian has mapped the car to go through the IVA emission test using closed loop narrow band lambda and now that it has passed, it has been remapped to achieve FULL POWER.
The customer is very happy and is planning further upgrades next year.
---
October 2013
Email received from Michael, who has an MBE9A4 ECU and wiring harness on his 2.0L Duratec Cosworth powered Westfield race car.
Hi, thanks for your help and technical support to Damian at Daytuner as he was sorting out running faults on my Westfield Cosworth Duratec race car
with an MBE management system. When I got the car back and took it to Harewood speed hill climb for the last meeting of the season, it ran well and
put in a 59.6 second run, 103mph through the speed trap.