Escort Mk2 – 2.0L XE
Adrian's Escort MkII had our SBD Taper throttle body 250 bhp kit on his 2.0L 16v Vauxhall XE.
2009 Events
2009 Inverness Snowman Rally – 1st in Class 9
2008 Events
9 February – MSA English Rally Championship 2008, Round 1, Wyedean Forest Rally, 1st in 2WD class as reported in PACENOTES, 'they enjoyed a trouble free run to take the B12 honours' Hetherington said "We had a very clean safe run, we didn't take any chances & the car ran perfectly'.
22 February – Five Mile Town forest stages, Adrian was 1st in the 2WD class & 2nd Overall
23 February – Donegall forest stages, he was 1st Overall
MSA English Rally Championship 2008, Round 2, Malcom Wilson Rally, 2nd in Class
Spring Rally Fivemiletown 2nd Overall & 1st in Class 7
Events 2007
Pacenotes Adrian Hetherington/Gary Nolan won the Rainbow Telecom Loughgall Stages Rally 2007 with 21:52.0 as reported in Pacenotes, who gave us permission to reproduce the parts of the report.
'It was nip & tuck throughout the day with Adrian Hetherington & Gary Nolan, but it was Teggart who held a two second advantage going into the sixth stage. The Banbridge man had been leading from the outset, but then disaster struck. A spin in the new farmyard complex of the stage saw the crew lose 10 seconds, handing the rally lead to Hetherington & Nolan.'
'With the cancellation of the final stage, Adrian Hetherington & Gary Nolan emerged as victors. After a day long battle with Teggart and Tumilty, the Donaghmore driver had snatched victory at the last possible moment. "We had a good battle with Marty Teggart and we just got in front of him on the last stage", Hetherington told Pacenotes. "Everything went okay and we had a good clear run. It was a bit slippery in places and the new section through the farmyard made it a really good stage. It was a good day out & organised very well".
Completing the top three, Mervyn & Laura Wedlock 22:01.6 finished just one second adrift of Teggart.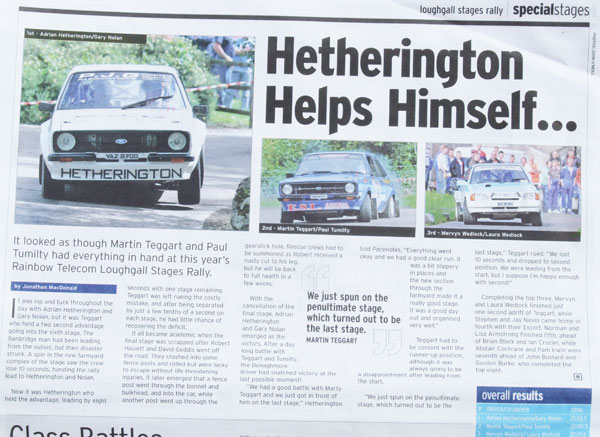 In the Superdrive sponsored two wheel drive category of the MSA NI Rally, Lakeland stages, Adrian Hetherington & Graham Henderson kept their Mk2 Escort between the hedges to finish as top two wheel drive crew & completed the event 8th overall.
Shown below at the Lurgan Park Rally 2007 (ngmotorsportimages)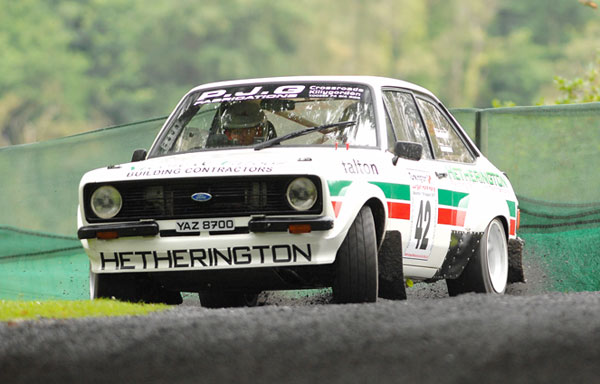 Events 2005
Galloway Hills 05 1st 2 wheel drive, 1st class. Enniskillen Lakeland Stages, 2nd class, 2nd 2wd
Omagh Motor Club Bushwacker Rally. 2nd class, 2nd 2wd.Mid Antrim 2nd class, 2nd 2wd
Killarney forestry Rally 8th o/a, 2nd class.
Southern forest Championship 2nd in class