Ford Fiesta Special – 1.6L EcoBoost
Bigskidz Racing Team
Their 1.6L EcoBoost powered Fiesta was built in 2003 by Ford Motorsport Germany as a 24hr "special" group N race car and as far as the owner is aware is was one of eight built. It was originally running a 1.6L Zetec engine producing 160bhp, but has now had a 1.6L Ford EcoBoost installed.
The 1.6L Ford EcoBoost engine is controlled by the MBE9A6 4-cylinder DI ECU (the MBE9A6 runs 4 DI injectors as well as an option for an additional 4 Port injectors). It also has the option for gearbox control, launch control and traction control. Although the engine internal's are standard, it has a SBD dry sump system with military spec coil on plug wiring harness, along with a MBE9MD display. The turbo fitted is capable of up to 350 BHP with 335 lbs/ft of torque with effectively no lag. The performance of the engine is limited on Kester's car to comply with Class limits and is likely to produce 260bhp. The gearbox is a Sadev 6 Speed Sequential with SBD paddle shift controlled by the MBE9A6 ECU.
More information is shown on their Facebook page Bigskidz Racing Team
2022
Oulton Park, June
Yesterday saw us at Oulton Park for another round of the Modified Ford Series. 2x 15 min races. The car was faultless as usual and felt really good all day. We even managed to get some silverware
.
Unfortunately there were a few incidents in the first race that saw some very nice cars get damaged.
Considering we were still on treaded tyre's and the rest were on slicks the car held its own.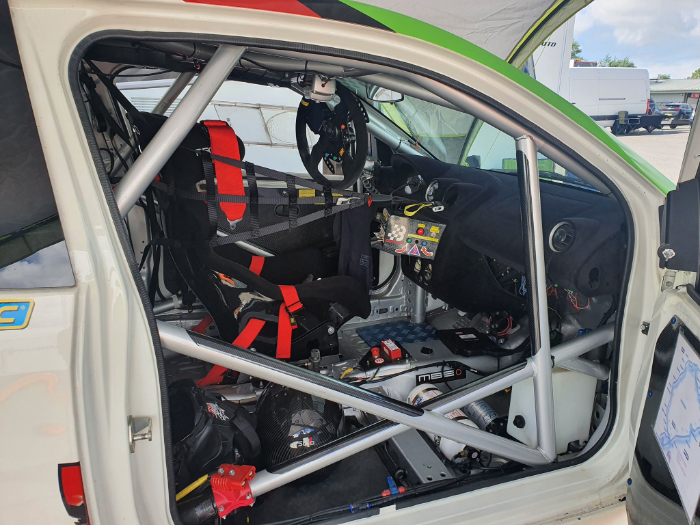 Donnington Park, May
A good day out yesterday with the Modified Ford Series. My first meeting with them.
There are some mega cars in that series so I'm chuffed to come away with two 3rd in class trophies .
Thank you to SBD for their continued support and all who came to help us yesterday.
No video footage unfortunately.
Silverstone, March
First race meeting of 2022 was successful. P1 in class in race 1 and P2 in race 2.
Qualifying didn't go well at all. I had to start in P50 out of 52 starters .The car developed a misfire on the outlap so i had to limp all the way back and into the garage. Luckily Rob found the problem very quickly which was a coil pack plug not on fully. The other problem was that the track was a lot wetter than i thought it was going to be and we had the wrong tyres on for the conditions and it was very hard to stay on the track without wet tyres and with only 20 mins in qualifying there wasn't enough time to change tyres and get some laps in.
The other issue is that i haven't had any testing time at all in the car since removing the rear wing and front splitter and the rear wing made a huge difference in stability on the fast corners.
Massive thank you to Rob, Scott, Anna and Kirsty for coming and helping. Couldn't do it without the help and it is very much appreciated.
2021
Donnington, October
Well, that's another year of racing done with. It's been another year of still trying to find the right balance for the car with regards to what power to run it at.
Britcar Trophy Championship has been a fantastic Championship and the cars and drivers in it are at another level and it's been great to test myself against them.
The last race weekend at Donington went from bad to good. Race 1 was pretty wet and I took a gamble on tyre's but it was the wrong choice and I fell off at the first corner into the gravel but luckily managed to drive out and carry on and spent the rest of the race sliding all over the place as it never fully dried out.
Race 2. Started on the second row and got into P2 on the first corner and held that position until the pit stop. With brakes fading and the light fading I knew I wouldn't be able to hold on against the BMW M3 and Ginetta G55 and I got pipped on the last lap for 3rd. Still it was a great weekend and the car is in one piece.
Got some testing to do now.
Thank you to my friends and family for their continued support who without them this wouldn't be possible. And also SBD Motorsport for sticking with me.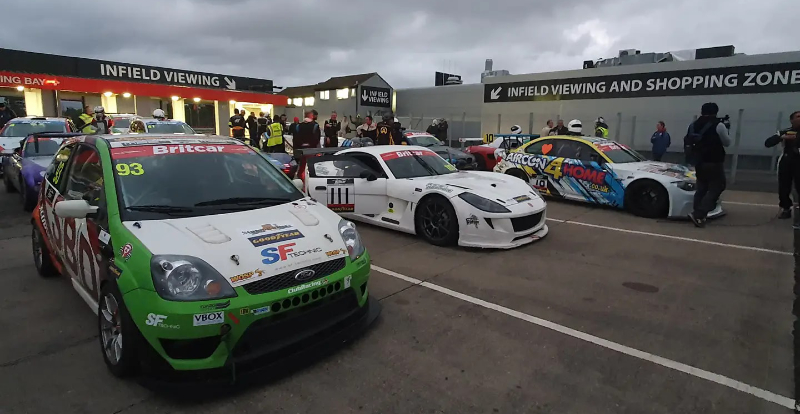 September
Snetterton Saloons
What a great day. A bit of a last minute decision to enter the race just to try it out and I'm glad I did. A very friendly paddock and great driving standards and also great to catch up with some old racing buddies we've not seen for a few years.
Because of the way the cars are classed by engine size and slicks or treaded tyres I only took with me a set of Dunlop Direzza's as my only other wet tyres a proper race wets and that would have put me up a class but hey, it was going to be a lovely dry day !
……..NOT.
Qualifying went well and i put it on class pole and 9th overall in nice weather conditions with a 2.08.970 the fastest I've been so far around Snetterton 300.
Come race time and bang on time it started to chuck it down. With heavy rain and lightning going off in the distance and the getting told there was a 15 minute delay, those not already on wet tyres left the holding area to go and put on their wet tyres which was definitely the right choice. Unfortunately I didn't have that luxury and was stuck with my dry tyres.
From then on it was just a case of getting a feel for how much grip there was and try my best and keep it on the track which I did although I did have a few bum twitchy moments here and there.
End result after penalties were added to the two TCR cars for overtaking on the safety car restart before the control line put me in front of one of them giving me 1st in class and 2nd overall.
Big thank you to my mate Lewis for coming along to watch and then got roped into helping
and got soaked, sorry mate but you know I'd do it for you
.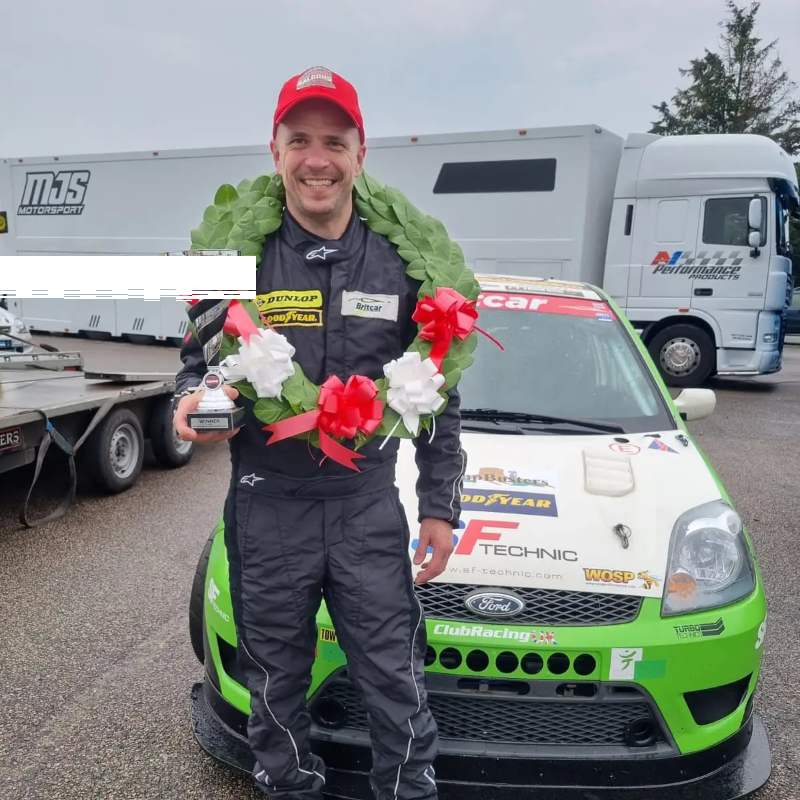 August
We attended the Tuner Fest show at Donington yesterday as part of the Turbo Technics display. It was nice to be able to relax and catch up with friends in a more normal atmosphere for a change. Also we done a very short track session as part of the Turbo Technics 40th anniversary display. The car/track was a bit slippy. Still managed a 1.19 on old cold tyres which isn't bad considering it'll do 1.17's with grip. Steve made a few little changes to throttle response and gear shifting which was very noticeable on track for the better.
May
Well done Kester, Bigskidz Racing Team in his 1.6L EcoBoost Fiesta, finished 3rd Overall and in 3rd in class in both the Britcar Trophy Championship races at Snetterton last weekend.
Kester's words; 'What a great weekend, I'm still mega tired. To finish on the podium in both 50 min races wasn't expected what with the mega car's we're up against in class and my big lack of brakes.'
---
MSV Trackday Championship, Brands Hatch 31Aug19 – Unfortunately, despite leading the race in the last lap, Kester Cook in the Bigskidz Racing Team 1.6L EcoBoost Fiesta had to withdraw since a headlight wiring had been rubbed through and shorted out, he nearly had a fire. Kester commented on his Instagram page that despite this, he had 'A great day spent with friends and family.'
Kester at Brands Hatch
Picture: Kim Broughton
Comment from Kester on Facebook following his win at the Silverstone round of the MSV Trackday Trophy on 18 August: 'Great result at Silverstone GP at the weekend. 1st in class and first overall, it doesn't get better than that. Massive thank you to all involved on the day and once again to #sbdmotorsport for giving me great support. Video to follow. Thank you to Scott Pope for the picture.'
Kester at Silverstone.
Picture: Richard Hope
Kester & Craig won the MSV Trackday Trophy Snetterton round on 15 June 2019, along with achieving the fastest lap. 
For a full report, please see the Trackday Trophy website.