Bigskidz Racing Team
---
Ford Fiesta Mk6 – 2.0L Duratec
Well done to Kester and Bigskidz Racing Team, winning Class S of the Trackday Championship 2016
Full report on BigSkidz Racing Team Facebook page
Engine Specification – 2.0L 16v Duratec – 240bhp . SBD parts as follows:
K3 High Spec 54mm Throttle Bodies
690cc Injectors
Omega 3 ring Forged pistons
Saenz Steel rods
STD crank with Keyway machining
Mahle Motorsport Big End Bearings
Mahle Main Bearings
ARP Fasteners used throughout
CNC Ported +1mm High Port Cylinder Head
Oil Feed Restrictor
External 3 Stage Drysump System
MBE9A4 ECU inc Pit Lane Speed Limiter
Well done to Kester for his lights-to-flag win at Rockingham on 19 June 2016, for more information read the full report on Trackday Championship website.
Kester at Rockingham June 2016. Picture courtesy of Snappyracers.com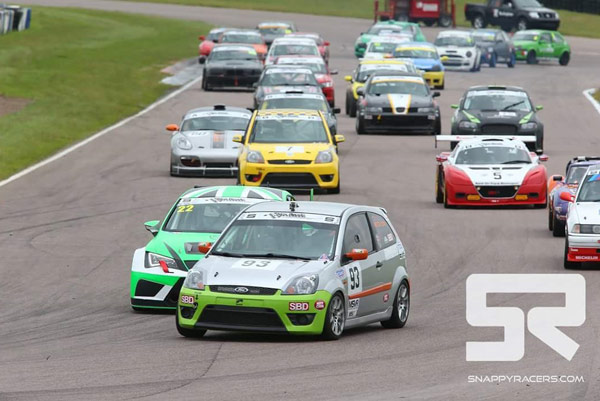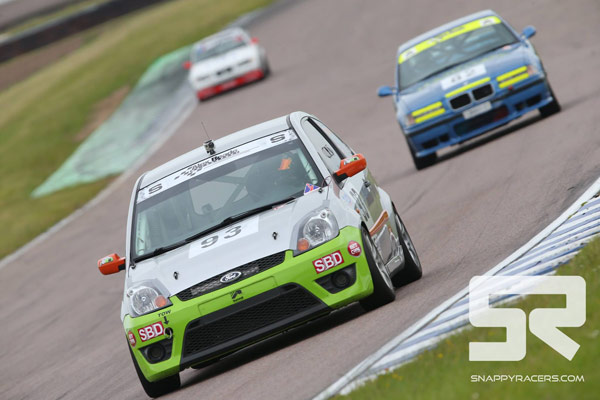 Congratulations to Kester, Bigskidz Racing Team having won his first race outright in his Fiesta powered with SBD 2.0L Duratec engine at MSVT Trackday Championship at Snetterton on 27 March 2016.
Kester leading the pack at Snetterton, March 2016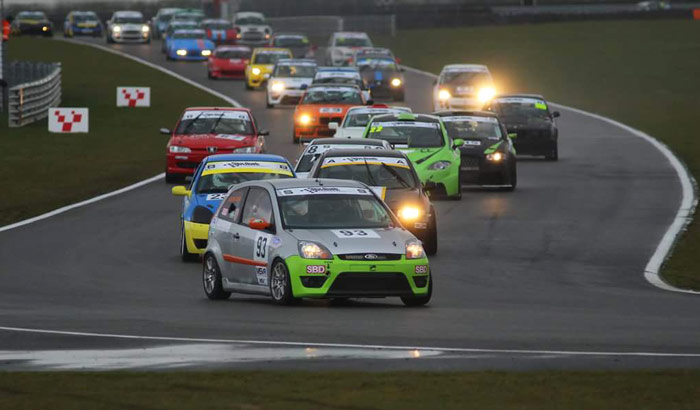 They competed in the CSCC Tin Tops Race Series 2015 Race Report from Donnington, 5th/6th September 2015 by Kester:We were blessed with plenty of sunshine for our CSCC Tin Tops race meeting at Donington Park.I am still getting used to and adapting my driving style to the new 2.0l upgrade. Taking my trusty fiesta out for qualifying was a little daunting as it was like driving the car again for the first time at a new circuit. The job at hand during qualifying was more about learning my braking points and entry speeds again which naturally took focus away on setting a fast lap.Craig Sampson of SBD Motorsport joined me as our 2nd driver, giving him his 2nd ever circuit race with this being his first visit to Donington!In qualifying we set a lap time of 1:22.529 putting us in a starting position of 8th on the grid and first in class.For this race meeting I decided to try out a new tyre, Dunlop Direzza. I found that I could not get a good balance with the car, a lot over and understeer. Not sure how much was due to the tyres and how much to do with the circuit conditions as Donington is notorious for being a slippy circuit, even when the weather is dry.There was a break of about 5 hours between our qualifying and racing so it was nice to be able to catch up with friends, relax and watch some racing!Getting ready for the race……I felt strangely nervous in the holding area in anticipation of getting out and racing. Perhaps it was my mixed thoughts about the new tyre playing on my mind. I am also super cautious (almost paranoid) about any little rattle or odd noise the car made, purely because I cannot believe how well it is performing at the moment.We had a rolling start however the grid was not kept as tight as it should have been and the cars controlling the pace at the front bolted before the lights had changed. Straight away we (as others were ) found ourselves at a disadvantage from the start.It took me a few laps to catch up with the front runners again and I was having a good race with the blue Clio of Tom Mensley until I fluffed a gear up which dropped me back that I couldn't catch him up. A couple of friends helped out with a smooth pitstop, getting Craig into the car and racing for 5th position. We finished 5th Overall and 1st in class.YouTube Video | Bigskidz Racing Team Facebook pageRace Report from Mallory, 1 August 2015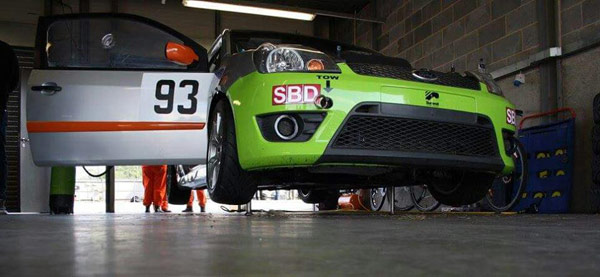 Email received from Kester, July 2015:Hi. We are BigSkidz Racing Team. Please excuse the team name, I was under pressure to think of a team name and this just popped into my head and it's stuck. We are a very small non sponsored family and friends race team just like many out there in the UK club racing scene. It is a family passion and it's what we go to work for as we all enjoy it together. My name is Kester Cook, I have been racing since 2010 starting out in a Mk3 VW Golf 5 door 16v that I turned from a road car into a race car. That served me well for my first year and got me quite a few podium results.The time came that I felt I needed something a bit better. I was very lucky to come across a Ford Fiesta Mk6 which came from the German ST cup series, at the time and only until very recently it was the only one in the UK. These cars were purpose built 'works' race cars. Bare shells removed from the factory assembly line and fitted with welded multi point roll cage, air jacks, race wiring looms and switch gear etc. Lots and lots of other mods that factory cars seem to have, too much to list here. Engine wise they were fitted with the 1.6L Sigma unit which in the first evolution produced 160bhp. The last evolution engines were producing 190bhp all on a standard inlet manifold but with a larger throttle body still using stock con rods and pistons but with valve reliefs cut into them for the higher cam lift. My car had already been retro fitted with Jenvey direct to head throttle bodies. It was producing 194bhp @ 8.200 rpm. This served me very well for 3 years and got me a lot of trophies and class wins but I started to feel the need for some more power as the car has an excellent chassis but was lacking in torque and power to get me where I wanted to be, up the front of the grid racing the big boys.The time came to fit a 2.0L Duratec engine. The first one didn't do very well. One test day and 20 mins of its first race and it blew up, that's what you get when you buy a ' refreshed' race engine off eBay, a very expensive lesson learnt. After a year out of racing and saving up I did what I should have done the first time round and got in contact with SBD. They came highly recommended, rightly so. They put me at ease straight away with their very professional approach and superb knowledge and years of experience with building race engines so I trusted them 100% to help guide me as to what spec to build my engine to. The end result has ended up with a Dry sumped engine producing 240bhp. There is more power to come with a change of camshaft as I am still using the ones from the original engine, along with more revs and some exhaust modifications but the car has been a reliable class winning rocket in its first 3 races so far.Another good thing to come from dealing with SBD is I have gained a good friend in Craig Sampson who has advised me all the way through with my engine build and as a result he is now sharing my car with me in as many races as he can do in between his Sprint racing. We managed a 3rd in class in his very first race at Silverstone after we led the whole of the first half of the race before pit stops. We can't thank SBD Motorsport enough and especially Craig for all of his help.If you would like to see further pictures along with some videos of the car then please follow us on Facebook.
Please note that this Fiesta has been completely stripped out for motorsport only and has none of the original equipment or wiring.