MkII GRP4 Escort – 2.4L Duratec, previously 2.0L Duratec, n/a Cosworth YB
When Retro Ford reviewed the Autosport Show 2016, they mentioned Matt's Escort on the SBD Motorsport stand:
Matt's Escort was on SBD's Autosport 2016 stand and included in the Retro Ford magazine write up 'Matt Downer's MK2 Escort has been around for a while, a thoroughly nice chap he is too. Steve at SBD has been working on wringing every last bhp out of the Duratec engine and what better platform to show it's capability than between the strut-tops of Matt's Mk2. With an eye-watering 327bhp now being made, in aspirated format, from their Duratec engine it's no wonder Matt's eyes lit up every time we talked about it. 
In October 2015, he had it fine tuned at SBD in preparation for the Dukeries Stages Rally at Donington on the 25th October 2015. This was his first rally in 4 years and he finished 8th Overall & 3rd in Class.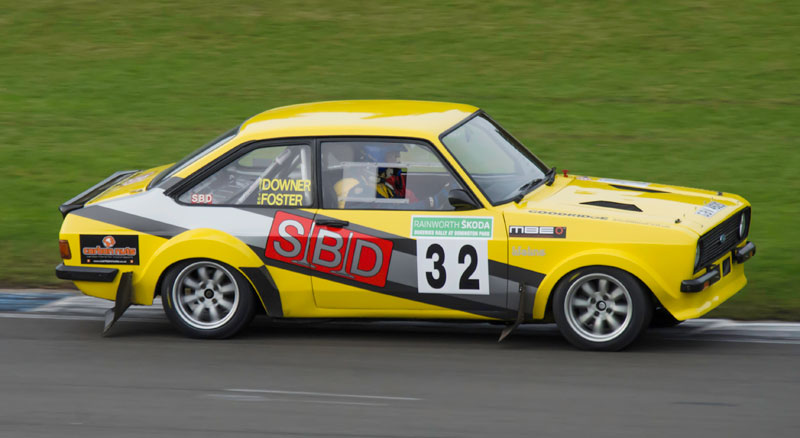 In December 2014, Matt exchanged his engine for the 2.4L Duratec with our 327bhp 225lbft kit.
Matt's Escort has been on the SBD Motorsport stand at Autosport International for 2012 & 2013 with its 2.0L Duratec 307bhp engine.
Brief history & 2013 Car specifications
Richard Burns Memorial Rally August 2011 3rd in Class, 8th Overall – 1h52:07
Richard Burns Memorial Rally August 2010 1st in Class, 6th Overall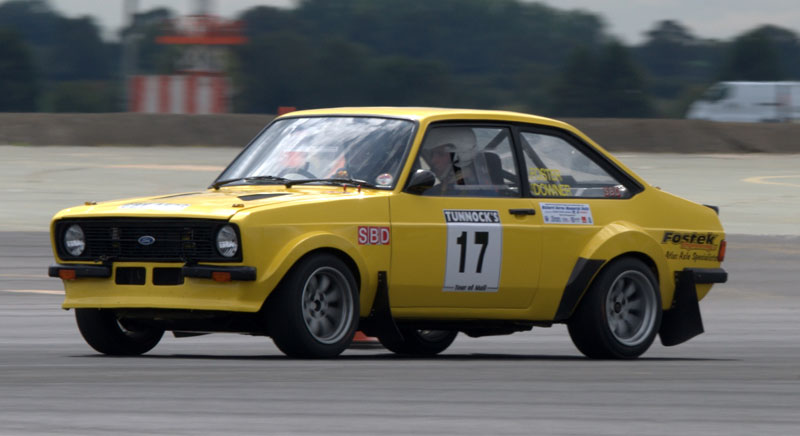 Pembrey Sprint, 6/7Jun09  – 2nd in Class:122.84s & 121.37s
Dennis Motorsport Epynt Hillclimb 2009 – 3rd in Class:61.41s
Ty-croes Sprint, 6/7Sept09 – 1st in Class:122.69s & 123.93s
Matt's Escort with its new 2.0L Duratec engine was featured in Classic Ford June 2009 issue, which has been reproduced with their permission.
Classic Ford reported on the Ford Fair 2008 held at Silverstone.
Matt Downer was included in the report & he took the Editor, Simon Woolley out for a ride: 
A serial track day, sprint and hillclimb attendee, Matt's seriously well-sorted MKII has been well known for its blistering pace on tracks across the country, powered by a singing naturally aspirated Cosworth YB. The Cossie's made way now though, in favour of SBD's 304bhp 2-litre Duratec, which Matt reckons give a whole lot more power through the rev range. It looks it too – Simon was treated to a white knuckle ride – and provided one of the highlights of the day when screaming past one the Silverstone instructors in an Exige. Matt's MKII obliterated almost everything on the track. Good Work, Classic Ford power at its most sweet!!
Matt took his Escort to Pembrey for its first outing since installing the ex-SBD Duratec. On Saturday he was 2nd in Class (123.17s) & on Sunday was 1st in Class with 53.88s. Read the report on  Old Ford Championship Forum
Matt is currently changing his Escort to Duratec power, he is installing SBD's 2007 2.0L Duratec engine into his escort. It was tested at Track'n'Road Rolling Road in the SBD Westfield & produced 294bhp/189lbft torque using 4 injectors.
The story behind Matt's Cosworth powered Mk11 Grp4 Escort was reported in Retro Cars.
Matt's Escort was featured in Classic Ford when they put a selection of cars on the the rolling road at Track'n'Road Performance.
Classic Ford have kindly given permission for us to reproduce part of the article.  'The Turbosport rolling road session was held down at Track'n'Road Performance, one of the UK's premier tuning specialists, on its unique single roller, capable of testing cars up to a maximum of 800bhp & 200mph. Steve Pitcher & Steve Greenald who run the rollers offer a service second to none and even on a busy day such as today, they still had time to try and solve problems where necessary, give out advice and generally offer value for money. This was no quick roll on roll off affair, and everyone got the same degree of attention whether you had a standard Crossflow or a stonking great turbo'd YB. The two Steves have over 60 years of tuning experience between them and quite frankly if they don't have the answer then it probably doesn't exist.'
Car: MkII GRP4 Escort
Mods: Naturally-aspirated Cosworth YB, steel bottom end, Accuralite pistons, Pace dry sump, ported head, SBD cams, taper throttle bodies, MBE management.
Expected Power: 235bhp
Actual Power: 224.1 bhp 149.7 lbft
Owner's Comments: It could do with a new bottom end, as that's what's restricting it at the moment. The cams just want more revs.
Steve's Comments: There's a lot more in there, it just needs a bit more work.
Retro Ford arranged a track day at Brands Hatch:
'It was always going to be good. We just never thought it would be this good!'. Our customer Matt Downer was one of the 40 people booked for this track day. According to Retro Ford 'We also had some more familiar weaponry tearing up the track too, including Matt Downer in his stunning n/a Cosworth Mk2 Escort who ran rings around everyone else.'
Matt's Escort was featured in Retro Ford May 2006 in an Ultimate Escort Showdown. Retro Ford have kindly given permission for us to reproduce part of the article.
Matt's Mk2 is probably one of the nicest, highly specced Escorts in the country. It's road legal, but loves to compete with it in sprint and have fun on track days… and you can see why. Beautiful preparation, a truly sorted chassis and an absolute screamer of a Cossie engine combine to leave a big grin on his face, his passenger's face (our Morley nearly wet himself with pleasure) and indeed anyone's face within half a mile of the car. His acceleration times were blistering, and put a good few of the Cossie turbo boys to shame, but top speed was hampered by competition gearing.
Tech spec:
ENGINE: Cosworth YBG, Graham Hathaway Touring car-spec head, port bored, titanium caps, REC valves, solid lifters, SBD MP05 Evo exhaust cam, SBD304 inlet cam, Kent verniers, Mountune WRC cambelt, Titan poly-V pulleys, Millington 45mm taper throttle bodies, Pice 750cc injectors, MBE 956E ECU, Raychem wiring loom, Accralite forged pistons, steel rods. Steel crank, ACL hearing, Pace dry sump system, Nippon Denso mini alternator, Exhaust by Design exhaust manifold, Titan steel flywheel, Radfab Rad, SBD carbon exhaust silencer, Mocal remote oil filter, Aeroquip fittings for oil and fuel.
TRANSMISSION: Quaife alloy case four-speed 'dog' box, 2.04 1st gear, AP7.25″ double-plate triple-paddle clutch, Flowtec bearing holder, Rally and Competition equipment propshaft, fully floating twin taper Altas axle, alloy axle brace, ZF Motorsport LSD with 5:1 final drive ratio  
RESULTS:
 0 – 60: 4.86sec
 0 – 100: 11.72sec
 ¼ mile: 13.52sec @ 107.56mph
 Max speed: 110.67mph