SBD Westfield – 2.0L Duratec
2006 – 2012
The Westfield chassis was sold in 2017 to our customer, who races at the Bahrain Grand Prix Circuit. It was converted to left hand drive and he shipped his SBD 290bhp 2.0L Duratec over to be installed. Steve went over a few months later to program it. 
The SBD Westfield was driven by Matt Hillam in the Westfield Speed Series, HSA Speed Championship & British Sprint Championship, Steve Broughton, Craig Sampson & Carole Torkington also shared at various events during the years.
Well Done to Matt, HSA Speed Champion 2012 in the SBD Westfield.
Motorsport News 17Oct12:
Hillam collects big time at Curborough 
'Matt Hillam won the Hillclimb and Sprint Association Championship at Curborough on Saturday. The Westfield driver went into the final two rounds leading the championship and sealed his victory with two record-setting runs. Championship contenders Mark Paterson and six-time champion John Palmer both struggled to match Hillam's pace and eventually finished second in their classes.' 
2012
Full details and results of SBD Events 2012
2012 will see us using the MBE launch and traction control facility to its full potential, although we have used launch for some time, it is now able to hand over to traction control once above 5mph. The traction control system on our car uses 4 wheel speeds fed into the 998 ecu, although a simplified version using only 1 wheel speed and gear input can be used by customers who have an MBE9A4 ECU only.
Our focus has very much been on the Sprint Circuit venues, this is certainly where we are at home. However once we feel we have the optimum setup, we will endeavour to engineer a more Hill Climb friendly setup, as we enjoy having the car at National Hill Climb events with Matt Hillam driving, so we will wait and see just how well the car can cross between disciplines.
The car finished 1st in Class at all the events it was entered for. Matt got new records at Anglesey, Curborough (October) & Pembrey and Craig got a new WSCC record at Castle Combe along with Fastest Westfield at Curborough (June).
---
2011
Full details and results of SBD Events 2011
By this point we were relatively happy with the car and its performance, now using our customer spec TP307bhp 2.0L Kit, but as the motorsport world never stands still further development was of course on the cards, we have worked with Titan to put together a lightweight diff, but with 4 planet gears for added strength. The viscous LSD is replaced by a Carbon plate type. With the car being double driven at many events, we see fairly high tyre wear, so we decided to follow the recent trend in Sports Racing cars and increase the front tyre size, the rear width was also increased but with a bias towards the front, we ran the car in an interim spec at the last event of the year to test, this was deemed a success. The winter break would see us reworking the front geometry to include some improvements, but also to work with the new tyre size.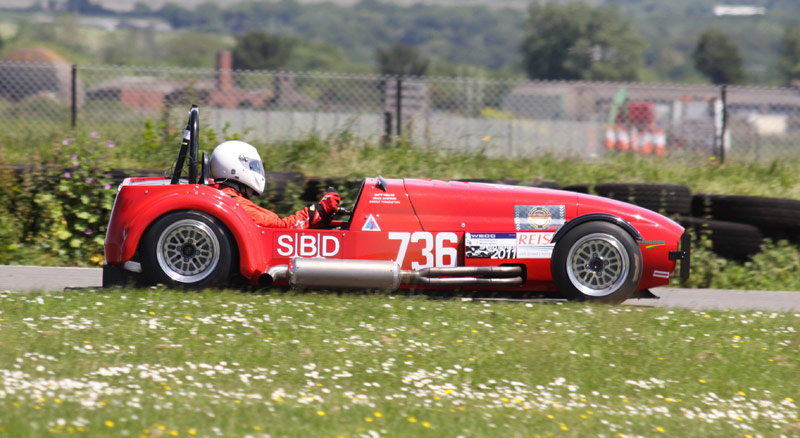 The gearbox rear bearing and seal had just about given up, so we had Quaife modify the rear tail housing to use a needle roller bearing and new seal, a design more suited to our engine revs.
A general refresh of the car was carried out during the winter break, including some new bodywork and replacing worn parts to ready the car for another full year campaign.
Overall Results
Matt Hillam 1st in Class H (WSCC)
2 FTDs Curborough Sprint
Various class wins

Craig Sampson 2nd in Class H (WSCC)
FTD Snetterton Sprint (Nat B)
FTD Hethel Sprint
Various class wins
Steve took FTD at Castle Combe October 2011 with 76.26s for a complete lap of Combe starting at the what is normally the final corner at Camp, completing a flying lap before returning to the pits via the pit exit lane.
Speedscene reported that:
'With no single seaters present it was left to the much campaigned (with more drivers than an F1 Minardi!) SBD Westfield to dominate proceedings with British Sprint star Steve Broughton coming out ahead of another of the car's regular drivers, Matt Hillam, to take FTD. These two were the only drivers to circulate in under 80sec.'
---
2010
Full details and results of SBD Events 2010
For the 2010 season we have updated the SBD Westfield with some of our key developments; the latest MBE9A4 ECU to control the engine & launch control & the MBE998 ECU which includes full paddle shift gear control. The 2 ECUs are continually share data to complete the gear changes via CAN-BUS. The MBE 998 ECU also logs data. We use a total loss compressed air system to power actuators for gear change and throttle blip to achieve a totally clutch less gear change. A Quaife 60G 6speed sequential gearbox is used, this allows us to run the same diff ratio at all venues, the car is geared to approx 155mph.
Another CAN-BUS device on the car is our MBE995 display, now superseded by our MBE9MD Display, this is mounted within the steering wheel and is linked to the car via the latest Works Bell Rapfix quick release with the addition of it's own 12 wire connection. It incorporates warning lights, a shift light array and an LCD display with multiple pages for Gear, RPM, Engine Temp, Oil Temp, Oil pressure, Fuel pressure and battery voltage. We have also added our latest high specification throttle body system TP-DURA-2.0L-K3.
Towards the end of 2010 we have been testing a new pair of cam profiles and a prototype high compression piston, these coupled with our new High Spec throttle body kit has achieved 299.9bhp from our 2.0L Duratec with the simplified 4 injector system. Over the winter break we have continued engine development, utilising the refined piston design of our 2 ring slipper type piston and longer rod, allowing us to achieve a customer spec of over 300bhp.
Overall Results:
Matt Hillam 1st in Class H (WSCC)
FTD Hethel Sprint
FTD Curborough Sprint
Various class wins

Craig Sampson 2nd in Class H (WSCC)
Various class wins
---
2009
Full details and results of SBD Events 2009
After the initial season with Matt Hillam driving the car, it was apparent that for the car to be any faster than previous years, we would need to improve the geometry by reworked roll centres and correcting some of the inherent issues with this type of car layout. Over the winter break we were able to carry out modifications & change various components to give the desired results.
Overall Results
Matt Hillam:
1st in Class H (WSCC)
FTD North Weald Sprint – 69.91s
FTD Curborough Sprint – 55.22s, finish speed trap:116mph
Various class wins including Brighton Speed Trials with a finishing speed of 128mph, 10.77s
Craig:
Various class wins at Pembrey 06Jun (114.09s), Lydden 15Aug (74.41s), Lydden 16Aug (76.95s)
---
Full details and results for SBD Events 2008
---
2007
Full details and results for SBD Events 2007
Developments October 2007
We have achieved 304bhp/195lbft torque at the flywheel with our 2.0L Duratec engine. It was run on Track'n'Road Rolling Road in October 2007.
---
Start of Built 2006
The Engine is 2.0L Ford Duratec. Through extensive work with the cylinder head we have found it possible to produce sufficient flow to produce over 270bhp from standard valve sizes, these are already quite large at 35mm (inlet) & 30mm (exhaust). We also found it necessary to develop a new larger intake system to cope with the demands of the head.
The standard crank has been modified with an added keyway groove for strength. We have designed a piston which is lighter than standard. In addition the conrod has redesigned and also made lighter (455g).
To enable us to improve the horsepower of the Duratec above 250bhp, a new design of bigger throttle bodies was produced.
The MBE 970 ECU has been used to control the fuel & ignition. The engine uses 8 injectors to deliver the fuel. 4 in the inlet manifold below the butterflies and 4 in the air horns inside the air filter. The lower injectors are used supply fuel at low RPM and low throttle openings, as the engine speed throttle opening increases the lower injectors are fade out as the upper injectors increase there fuel delivery. The lower injectors needed for rapid throttle response and slow gas speeds, whereas the upper injectors being further away give the fuel more time to mix with the incoming air help the engine to produce more power.
The ECU controls the wasted spark. The MBE970 not only controls the engine but may other functions as well. It is able to turn the alternator off an on to reduce BHP losses. Launch control which in its latest form has 8 different maps that can been set-up to control the Revs for up to 8 seconds from the start line, the driver can select 1 of 8 launch sequence even on the start line with an adjustable knob before beginning His or her start. The MBE970 system has many other functions available included Radfan control, Electric water pump control, Power shift (or Full throttle shift), Wheels speed less traction control (only suitable for sequential gearboxes), as well as output you configure to suit your own needs.
High specification stainless steel exhaust manifold especially designed for the 2.0L Ford Duratec engine has been used. The low exit exhaust manifold utilizes the 4-2-1 system with a 2 3/4″ outlet which improves the mid range and top end power. The Westie was taken to Track'n'Road Rolling Road in December 2006, which showed that with the right combination of intake system, CNC worked cylinder head & our exhaust manifold that this performance level was achievable at a reasonable cost.