Testimonials
We have received many testimonials from our customers over the years, some are listed below and others are included in the many pages within our Cars/Press Coverage section.
September 2021
Mike emailed us after we sold him a CAN mapping kit
Many thanks for your prompt response and info – much appreciated – excellent customer service.
---
July 2020
Email from Scott in the USA after we helped him with his clutch.
I can't tell you how lucky I feel to work with someone so knowledgeable. I also really appreciate you supporting me on an engine you sold me almost 25 years ago!
Thanks again.
---
July 2020
One of our trade customers in Czech Republic, who buys a lot of our MBE9A9 ECUs sent us this information and video of one their customers competing in a European Hillclimb.
'Hallo. This is video of my friend with MBE9A9, electronic system, paddle shifter, hydraulic paddle shift system, traction control… all operated with MBE ECU, upshifting with torque reduction and recovery…. this is why fire from exhaust system during shifting. Honda K20 engine 330 hp
Filip Zelenský'
---
June 2020
Email received from Niels in the Netherlands with his 1600cc Corsa:
Hi, Just keep you guys updated,
I mounted the heavy duty idler. Very nice.
Raced 4+ hours intensively on Zandvoort last Friday and no problems or weird rattles I use to had with the original spanner/idlers.
In addition; Last Friday I knocked of a whopping 2.6s and now doing a 2m14s9 on Zandvoort with my 1600cc Corsa. Hhaha!
Enjoy the video:
---
February 2020
Message received from Ari S:
Hello from Finland!
My engine won the Finnish Rallycross Championship 2019 with Duratec engine and SBD parts. Car was old Datsun Finn . Engine given 280hp and 265nm torgue with DUR04 cams.
---
April 2019
Message received via Facebook from Everything Race Engines / KSP Engines:
Credit where credits due….
I feel some company's don't get the credit they deserve sometimes, I've been a customer of SBD Motorsport Ltd for nearing 15 years now and I have to say that when I call them with a request (no matter how obscure) I am always met with a pleasant tone and a helpful answer, just a simple acknowledgement really. Thanks Carol, Steve Craig and crew for the years of brilliant service.
---
March 2019
Graham Blackwell emailed us after we supplied him with our 1.6L Ecoboost Spec 7.25" Twin Disc PTT Clutch with high ratio pressure plate, PTT competition release bearing along with our lightweight steel flywheel. The goal was to reduce overall vehicle weight along with reducing the MOI within the drivetrain, to allow for faster gearchanges and less gearbox wear.
"Clutch was perfect at Mallory last week.
The pedal is lighter than before, bitepoint was good, no issues. Didn't run with full power yet, but the gearchanges were smooth."
---
January 2019
Email received from Paul of his 1.4L 16v Nova rally car:
I have just received my parts so thanks for that.
I have attached a couple of pics of my rally car which were taken at Bovington in October 2018.
Pictures are of myself & co-driver Keith Richings and we won the ASWMC championship in 2018 & also in 2015,
Regards, Paul.
---
March 2018
Email received from Kevin
Dear sbd, I am emailing you to thank you for your kind response to the request I sent you in regards to verifying the year of manufacture of my Vauxhall c20 xe engine. I tried in vain to Vauxhall and other areas and nobody wanted to know except yourselves,a true professional company in my opinion. I would recommend yourselves to anyone in the north east where I'm from. thank you once again for taking the time to reply to my enquiry.
---
March 2018
Email received from Richard in Johannesburg:
I am writing to tell you how happy I am with the SBD throttle body and MBE management kit I installed in my Birkin 7.
It has been running absolutely faultlessly now for a couple of years (the date on the dyno chart is not correct) and is the envy of many other owners of similar cars, mostly using Toyota 16 and 20 valve engines. I use it mainly as a day to day road car (we are lucky in Johannesburg because we don't have many rainy days) and occasionally at track days. The huge flat torque curve is its sweetest characteristic! Around town you can get serious performance without looking and sounding like a boy racer.
When I first installed it I could see it was running very rich, so I took it to the dyno for a tune-up which sorted it out. I attach a set of the power/torque curves for your interest. I think they are spectacular bearing in mind that this was done on a 24 degree C day and Jo'burg is at 5300 feet asl.
---
May 2017
We received a photo of Craig T's 2.0L 16v Nova:
Hi Folks, Thought you might like this. Taken on the May Bank holiday race day at Castle Combe.
Keep up the good works.
June & July 2016
We received some emails from Tom in Pennsylviana, USA, whose Caterham CSR, 2.3L Duratec has our MBE9A4 ECU controlling it:
Steve remotely mapped his Caterham, as seen in this YouTube Video and Tom commented 'The engine sounded great. I have never run it up to anywhere near that RPM level. I'll send you a video I took during one of the runs. Watching you make all of those changes to the map during the session was very educational'.
Then after he had tested the car on the track: 'The car ran flawlessly. After giving rides to some of my fellow Caterham owners this weekend, you may be getting a few calls from them wanting to upgrade their power. ;>)
P.S.The starter just arrived today. Thanks once again for your support.'
---
March 2016
We received an email from Francisco from Spain.
'Hello Steve /Carole just like to thank you very much for your help.Tried the car today and was very happy with the results much smoother and has more push. I will be in touch as i will be ordering more goodies, I am following you on facebook congrats on your excellent results this weekend best wishes Frank'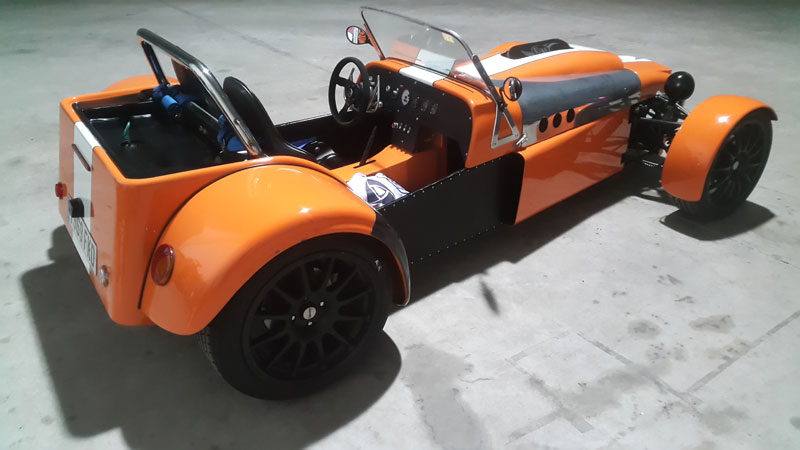 ---
May 2015
Email and picture received from Richard H of his DJ Racecar and Stirling Moss at the Autosport Show, 2015
Here are a couple of pictures of the car at the NEC which I promised you a rather long time ago.
April 2015
Email received from John of Fostek:
Massive thanks for your help/support at my rolling road session at Daytuner today. I am very happy that between yourself and Damien we have got a top class set up in the Grey car. I will try and do a little write up with pictures about both cars and forward them to you.
Cheers
---
February 2015
Email received from Charles Paynter, he has a Vauxhall Nova powered by 1.6L 16v with SBD Taper throttle bodies with 480cc yellow peco injectors, MBE967EF ECU, 79 mm Omega Slipper pistons, steel rods, 11.6mm 295 degrees lift cams, ex SBD test head and test pulleys and dry sump kit:
Good afternoon Steve,
I thought you might be interested in a follow up to our previous conversations.
I took your advice and took the car back to the Mass Racing dyno at Great Gransden near Cambridge. After a bit of messing about with the software until we got the right version to make the mapping features fully functional, Chris Conoley set about re-mapping, paying particular attention to the lower and middle rev range, whilst running the higher octane fuel. This proved to work out very well and the car now pulls much cleaner from lower down without bogging down and misfiring like it used to. We ended up recording a full power curve from it which I have attached for your perusal.
I'm extremely pleased with the outcome because the figures and power/torque curve very closely match yours for this specification of engine. I'm going to take the car to a track day at the end of the month so fingers crossed everything runs ok. I had a scare when I took it off the dyno and it suddenly dropped oil out of what I assumed was the engine. However, back home on the vehicle ramps, I discovered it was in fact an oil pipe leading to a remote canister from a front suspension strut that had been jolted and ended up rubbing on the alternator pulley! Phew what a relief!
Finally I would like to congratulate you on the performance of your engine specification. Very impressive and a lot of fun!
Thank you for your help.
---
January 2015
Email from Rick with a picture of his 1.6XE powered Darrian Dragon Evo
Hi Steve, Finally got a good photo for the web site with your logos on.
The SBD dry sump system working a treat.. oil pressure problems seem to have vanished.
Still sorting small handling issue's but the last 3 events have gone well with:
3rd in class peter Lloyd stages
2nd in class Regency stages
1st in class 14 A/O Brean stages
Thank you very much for all your help so far.
---
October 2014
Email received from David Ferguson in USA, who runs a Mazda Van Diemen RFS-03 Mazda using our MBE9A9 ECU:
We had a dominating performance at the SCCA National Championships, winning the race by a large margin (15+ seconds). Thanks to you and Chris for making that happen.
We were later penalized for a pass under full-course caution (I failed to see the flags when they were first displayed), so I was demoted to 2nd in the official results.
---
September 2014
A picture received via Facebook received from Danny Keenan of Mk Sportcars, who up until now they have mainly built 7 style cars, but has now built a Sports Car, Hayabusa powered using our dry sump systems.
June 2014
Email received from Fernando Ogando Rios of Talleres Ogando, Spain who has a Opel Kadett with our Vauxhall 2.0L TP225 taper throttle body kit with MBE9A4 ECU.
THANK YOU FOR EVERYTHING
Ok problem solved, see the car on Youtube.
---
May 2014
Email received from Lars Berntren, Norway who has a Escort RS2000 with our high spec Duratec throttle bodies, MBE9A4 ECU & MBE995 display.
Thank you Steve!
I have a small film from the rally, you can use for marketing your products if you want to!
---
November 2013
Email received from Deckspeed Racing, Australia who have a team of Mazda MX5 racing cars which are fitted with Duratec as standard, we supply them various upgrade parts from Omega Pistons and Saenz rods, to Heavy duty chain tensions and pulleys, Motorsport bearings, ARP equipment.
This is where your parts end up. These are all our own race cars.
Michael, Deckspeed Racing
---
November 2013
Email received from Johnny H in Southern Ireland, who ordered a Vauxhall bottom pulley and bolt.
Thanks very much – Carole and Craig for looking after us. Top class service, staff most helpful, 100% happy customer.
---
October 2013
Email received from Chris C in California, who has 2.0L Duratec with SBD throttle bodies, MBE9A4 ECU and wiring harness in his Caterham, which he started in 2006.
Hello Steve,
Chris writing from California. My project is nearly complete (excluding the exhaust, which is on the build) and I have a question.
Beyond that, I would like to take a moment to thank you for all for your help on my project. You may recall that I've sourced just about everything necessary to complete the project from SBD. I did so because my prior experience with you all was entirely positive. Now, you have proven that since my first experience (in 2003) you and the company have only gotten better.
When the work was (finally!) done I turned the key and the engine fired up immediately, maintained idle, and ran up the rev range smoothly. Subsequent running-in has revealed that I've got quite a lot of engine on my hands. All the systems you provided, both hardware and software, are functioning flawlessly, and have done so right from the starting gate. Everything Just Works.
I put this down to the quality of the products you provide, the amazing expertise you have and also to the extra work you all did (configuring the map in the ECU, building the throttle bodies, et. al.) for me. The installation instructions you make available allowed me to proceed w/ confidence as I moved through the work on each of the systems.
Indeed, the fact that you didn't hear from me (much) during the process speaks to the quality of the products and documentation you all provide. Kindly send my regards to Carole and Craig, both of whom were so helpful and responsive during our dealings. Heartiest of thanks to you all. I am looking forward to another project, and when the time comes I certainly know where I'll be sourcing parts.
Oh, and one other thing. If you're ever considering coming out West to the left coast (and it's a holiday well worth it – California is beautiful) please do contact me. Nothing like local knowledge to enhance a trip.
Many thanks, and Cheers!
---
October 2013
Email received from Robin S in Australia after Steve mapped his Escort Mk1 with 2.0L Duratec over the telephone:
Hi Steve
That latest map is really good. I can't believe what an amazing job you have done just over the phone. This guy had the car and all the latest gear at his finger tips and then you have mapped the car over the phone incredible.
Anybody that can map a car over the phone deserves my business. I have faith in your MBE over all these others.
I spoke with Steve Williams and discussed the idea of building similar engines to this recent one, using the MBE again, putting in the same map and getting him to fine tune the results instead of wasting money with idiots.
I could maybe try to have 2 cars finished at the same time next time around and you can visit in person.
---
October 2013
Email received from Michael S, who has an MBE9A4 ECU and wiring harness on his 2.0L Duratec Cosworth powered Westfield race car.
Hi, thanks for your help and technical support to Damien at Daytuner as he was sorting out running faults on my Westfield Cosworth Duratec race car with an MBE management system. When I got the car back and took it to Harewood speed hill climb for the last meeting of the season, it ran well and put in a 59.6 second run, 103mph through the speed trap.
Thanks again
---
September 2013
Email received from Dave K, who has an MBE9A4 ECU, wiring harness and SBD Taper throttle bodies on his Hayabusa powered Caterham.
Hi Steve
I collected the Caterham from Daytuner yesterday and have to say I'm extremely impressed with the end result.
Having had a few busa engines now this is a revelation in how it starts and runs especially from cold, it even starts on 12v with 11.6v in the battery.
Damian's knowledge and experience with bike engines really proved to be invaluable as there were a few issues with the charging system that I was unaware of that were sorted easily once I was despatched on my way home :0), he really is a good ambassador for SBD and MBE .
Thanks for all your help and advice over last few years, I,ll send you a couple of pics once the cars back together with the full cage back on after the iva test which I now have renewed enthusiasm for
Cheers
---
June 2013
We received this on our Facebook page from Noel G, Malta who is running a 2.0L XE with our pistons, con-rods and various other components in his Escort MK2:
Hi , Thanks to all the staff of SBD Development for giving me the right stuff for my c20xe engine. If you want you can load this clip on your F.B.
Kalkara Hillclimb
---
April 2013
Email received from Alberto Z in Italy, who purchased our exhaust manifold EX-M-AST3-S16 and our 2.0L XE camshafts for his Opel Astra F 2.0 16v rally car:
SBD Friendly MOTORSPORT,
I don't know if you remember me, I have purchased from you in 2010 the exhaust manifolds and in 2011 I have taken the cams for my Opel Astra (the cams I taken them through the Red&Blue Autosport of Diego Giuratti,my preparer). I sent you some photos relating to my car because when I made this transformation we have won a national championship and won several placings very importanti.adesso very confident of your products.
---
October 2012
Email received from JC Coetzee of Fast Eddie in South Africa, their customer's Noble now has an MBE9A9 ECU running the engine:
Good morning Steve,
We are now finished with the Noble and the owner is very happy, he can't believe the difference made by the ECU. 🙂
He is currently driving it on 0.7bar (low boost) as the car becomes a handful on 1.3bar (high boost).
It's amazing how smooth the engine runs, and how well controlled everything is.
---
August 2012
Email received from Neil K in Australia, who has our TP290bhp Duratec kit, starter motor STR-DURA-F3-01K and flywheel on his Chiron Sportscar:
Dear Steve
We finally finished the bell housing and assembled the engine/transmission last Friday night. The new starter motor, flywheel, etc is brilliant.
We can crank the engine for extended periods and we now no longer need the auxiliary battery. The car starts at a touch of the button and the power from the engine is very good and the car accelerates very well.
Many thanks, Neil Kenny
Photograph courtesy of Michael Coppola
---
2011
Email received from Adam in Houston, USA who has our MBE9A4 ECU on his Duratec powered Caterham
Your support has been first class and I have passed that along to the various Caterham owners over here. I also think if I yearn for more performance in the future it will be though you and your throttle bodies, for now though I need to enjoy the car as it is for a while!
---
2010
Email received from Sabina Artnerova, J.M.I.T. in Czech Republic showing Ondrej Musil Autocross European Champion 2010, using our taper throttle bodies, crank, pistons, rods & associated components for their 1.6L Vauxhall Autocross car.
I am sending you the video of our Autocross season 2010, just to show you, where your components are used.
Thank you and best regards
Sabina Artnerová, J.M.I.T. a.s.
---
2010
Email received from Gavin J in Basingstoke, who bought our MBE9A4 ECU & wiring harness for his K-series Caterham.
Good Afternoon
I had a very good chat with Steve this morning about 9A4 for to a K series Caterham, I'd just like to say that I was very impressed with his help and was a very nice thing to actually speak to a company that knows about what they sell.
---
June 2010
Email received from James B in Kent, who has bought various 2.0L XE parts over the last few years.
Thanks for your assistance. Its an expensive rebuild I didn't need so money saved is a great help.
Good to see a company that can lend a helpful service without trying to capitalise on every pound from the customer.
---
2010
Email from Wayne S in York, who rallies a Vauxhall Nova powered by a 1600 16v with our Throttle Bodies and MBE management system:
'Thank you for setting up my throttle bodies in November just before my first event at Rockingham, The car went extremely well and never missed a beat over the weekend. A Big thank you to all of you.'
---
February 2009
Email received from Renato, Brazil:
I am of Brazil, I work in Bana racing team , where every team and I prepare a car piloted by Jair Bana and his son Eduardo Bana.
This car has the engine, a Vauxhall, and injection system MBE, components are purchased with Italo, its representative in Brazil.
In the past thousand miles of Brazil, had the pleasure of winning the victory in the category 3, and end only late in a Ferrari, getting to second place overall.
Vauxhall engine, a great engine.
MBE, a real injection system.
---
May 2008
Email received from David H in Australia who bought a MBE992 ECU, wiring harness, peco injectors & quickshift kit for his 1300 GSXR powered Force:
Hi Carole
Tell Steve the Force going very well,after 3 rounds,3 class records(one was set 12 years ago when ADO came out to Bathurst with the then latest Pilbeam MP62 Vauxhall),and outright FTD at the Bathurst mountain hillclimb.
Regards, David
---
November 2007
Email received from Salem M in Holland, who purchased various clutch parts for his 2.0L Vauxhall:
Hi Dick!
Just wanted to say thank you for your excellent support a few months ago and the parts you supplied. I am happy to show you the end result, the Vauxhall XE 2.0 16V in my Fisher Fury, see pic. It is wonderful.
Once again, thank you!
---
October 2006
We received an email from Oliver in Stoke on Trent:
Hi there,
I've brought parts from you over the past couple of years and had my car featured in a magazine complete with your TP208 kit. I've always been really impressed with your products hence why i'm in the process of upgrading to a higher spec. .
---
February 2005
Email received from Dave Oldale:
Steve
Just going through my photos from last year, thought you may like this for your website.
You will most likely know the engine better than me but the car was built by Lindsay and I bought it from him.
Hopefully I'm going to carry on where he left off – I got FTD in the Nottingham Sports CC event at Thoresby Park in September.
---
2004
Information from Ian:
The car has been on the road for three years now, and has covered several thousand miles.
The Vauxhall 2.0 16v engine running with Twin 48mm Dellorto's SBD Ignition, Exhaust, & Inlet Manifold, has proved a very flexible and reliable power unit.
The Power output and delivery is excellent, making the car extremely fun to drive.
---
July 2003
Letter from Carl Moffett:
I have received purchased a 208 kit. Thank you for the kit and support during build. It has transformed my Caterham into a devilishly fast & responsive vehicle. A number of people have been thinking about going the throttle body route in the area and I would certainly recommend you.
---
March 2003
Email received from Johan H, Sweden:
Hi Steve!
Thank you for the answers, I will try to make use of the MBE logging stream to show data on my display!
I attached a picture of my engine bay.
Kenneth did my ECU mapping last summer, the engine has been running perfectly since.
Regards, Johan
---
February 2003
Email from Colin M in Ireland who bought our 1.6L VX Taper throttle body 180bhp kit:
Hi Steve,
Thanks for a great kit, Won Mid Antrim Motor Club 1600 class 2002. Have enclosed photo in case you want to use on your site.
Regards Colin