Van Dieman – 2.0L Duratec
Bill sadly passed away in November 2018 peacefully at home, he will be missed by all.
Bill Gouldthorpe sold his car to Steve Miles (Moleracing) & it will be out competing next season 2011 with new body work. Bill share-drove the car for the Tunbridge Wells sprint at Goodwood & for the Brighton Speed Trials. He is also planning to compete in his GT40.
Steve Miles was impressed with the Duratec engine after Bill beat him at Goodwood earlier this year, a special 'Mole Kill'sticker was produced as proof!!
Steve will be keeping us updated with the car's progress.
Bill at the Brighton Speed Trials 2010
Picture: Kim Broughton
In 2010, Bill won FTD three times again at Goodwood with 81.11s (15May), 159s (2-lap sprint, 26June) and 81.03s (7August). For more pictures of Bill's car see www.mankymonkeymotors.co.uk
In 2008, Bill got FTD at Goodwood three times with 82.80s (26April), 81.50s (10May) and 82.44s (2August), also winning class and getting 3rd Overall at the Abingdon Carnival Sprint with 91.66s. At the Brighton Speed Trials that year, he was 1st in Class with 10.97s.
Pembrey, May 2008
Picture: Kim Broughton
In 2008, Bill has upgraded his 2.0L Ford Duratec to our 270+bhp taper throttle kit with dry sump kit. Once again he brought the car to our workshop to fine-tune the new engine.
Bill was interviewed for his local paper, the Basingstoke Gazette in the August 27 2008 issue:
Young-at-heart Bill Gouldthrope is a speed demon at the tender at of seventy-something. The retired lorry driver can be found most weekends driving his Duratec Van Dieman at up to 160mph in his chosen sport – sprint racing. The Basingstoke resident used to do vintage ploughing at the sedate pace of 5mph, but now, thanks of his supercar, which can create out 275bhp, he is more used to travelling a speeds into three figures.
His route to one of the least-knowns form of motorsport hegan when he helping out as a mechanic in the 1960s for local racer Roy Adlam. a garage owner in the town. He then moved behind the wheel, first in karting and then in a Sierra Cosworth.
His first sprint event, some 20 years ago, was at Goodwood, and since then he has gone from strength to strength. The Sussex track still remains his favourite and he now laps the 2.4-mile circuit in a time of 81 seconds, which gave him the Fastest on the Day Trophy at the Goodwood Sprint earlier this year. The driver competes right across the country in the British Sprint Championships, and he also takes part in the Southern Championships and drives at places such as Castle Combe, Stowe and Pembrey.
As you speak to the very likeable man, you can sense his enthusiasm for the sport. He said, "It is a great feeling travelling at these speeds and my car is just brilliant. It goes even better in the wet. I think doing this keeps me feeling young, and I remember a youngster who was driving a GT Porsche. He was expecting to beat me, but on that occasion I was quicker than him. I could see he was not happy about it."
Like a lot of sportsmen, he is very superstitious and always get into the race cockpit from the same side. He joked: "I don't know when it started, but I always climb in from the right and also always wear the same underpants – washed of course."
If you wish to see Gouldthorpe & his superb car in action, you can do so at the National Speed Trials being held in Maderia Drive, in Brighton on Saturday, September 13. This is Britian's oldest motor racing event and was first staged in 1905. Talking about the event, the Basingstoke driver said: "It is a great atmosphere and the chance to see a lot of cars close-up and in action. I look forward to the event every year."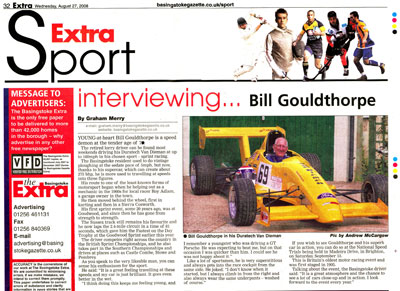 In 2005 to 2007 season Bill's Van Dieman was powered by a 2.0L Ford Duratec with our Taper Throttle 214bhp kit, shown below testing the car outside our workshop in February 2005. His first event this season was at Brands Hatch achieving 8th overall out of approx 90 cars in 84s.
Bill outside the SBD Workshop with Steve, February 2005