Great Western Sprint
The SBD 2.0L XE Dallara will be competing, driven by Steve & Matt.
Carole will be competing in her Hayabusa powered SBD OMS CF08
Steve:
7th in BSC R31-121.40s, 7th in BSC R32-120.99s
Matt:
6th in BSC R31-119.95s, 5th in BSC R32-120.35s
Carole:
2nd in Class, 9th in BSC R32-126.90s
Steve & Matt had turned up to Castle Combe along with John Hughes who was on hand to help out. We persuaded Zoe to come down as team manager for the day to keep us in order! Matt went out for practice, said the car felt very slidey and had no brakes, but he always says that on the first go since he admits to driving 'Miss Daisy' on the first run, which is why he goes out first! Steve then went out for his practice with still very tepid tyres, the car didn't feel too bad and time was sort of OK, nothing really to change. Alan Mugglestone (sharing Steve Miles' Van Diemen) went out and was about a 1/10th of second quicker, then Steve Miles was faster again on warmer tyres.
Steve would normally be comfortably faster on practice, but we just assumed at that point because we hadn't been there in a while and needed to get in the groove. On the 1st timed runs, Steve would go first on the cold tyres, once again we couldn't get any grip and Matt, although with slightly warmer tyres, said the car was still sliding around and we weren't going any faster than practice. The same happened through all the runs in the day and whoever got the second run, got a little bit more heat and was therefore was a bit faster. Unfortunately when it was Steve's turn on T3, whilst he was waiting to go off the line, one of the cars caught light causing mayhem and obviously not good for the owner of the car as we think it was his first time out since buying it. Hopefully the car is repairable, but this delayed matters for at least 30 minutes, by which time the tyres were stone cold and the temperature had dropped even further, so the time was even slower than what they had been doing in the morning. We were both kind of confused at the end of the day as to why we were both so slow and after several conversations with Alan Mugglestone, he has confirmed that the Dallara is so kind on its tyres, which is great for lap after lap circuit racing but not ideal in a sprint on a very cold day!
We now have some ideas as to what to do and there will be some major changes to the car over the winter to improve this, as well as the doubling of the downforce and if all goes well with minimum drag penalties.
The current engine has performed well for two seasons, however we have also been developing a new engine design. We are hoping all the components are able to come together and we still have reasonable weather, when we plan to test in December, so watch out for updates.
Matt at Castle Combe, October 2021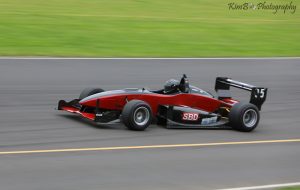 Steve at Castle Combe, October 2021
Carole at Castle Combe, October 2021
Photographs by Kim Broughton