Lydden Hill Sprint
Steve & Matt were competing in the SBD 2.0L XE Dallara
Carole was competing in her Hayabusa powered SBD OMS CF08
Steve: 3rd in BSC R13: 66.89s, 2nd in BSC R14: 66.19s
Matt: 2nd in BSC R13: 65.93s, 1st in BSC R14: 65.66s (New Class Record)
Carole: 11th in BSC R13: 71.10s, 10th in BSC R14: 69.79s
Steve's Report: No changes had been done to the set up of the SBD Dallara since the last event except changing from wet to dry settings. We had brought along a large bucket and towels just in case the Dallara suffered with excessive tyre heat due to the extra hot conditions. The Dallara was good for both drivers whether driving first or second, since the Dallara doesn't work its tyres too hard. We had experimented with some new traction control settings, Matt went out first and put in a steady practice as usual and said the car was understeering and oversteering. Steve went out without making any changes and reported the same, both drivers felt the traction control was creating the understeer so Steve reverted back to previous settings for the 1st timed runs to carry out further tests when more time was available. Even with this small issue, Steve was way ahead of everybody else in practice and the only car getting into the 66s. Steve then drove first in the timed run and the car was now more controllable on throttle, Steve further improved his time and Matt made a huge change to qualify just in front of Steve.
We decided to make no further changes to the car, the tyres were working fine. It was nice that it was a warmer day as we are always at a disadvantage in the Dallara because it will not warm its tyres up and quite often even the second driver doesn't gain any advantages because of this. In the 1st run off, Terry was quickest just pipping Matt into 2nd place, Steve was 3rd just a little bit further back. Steve Miles was struggling quite a bit so Steve went over to see him to look at his data and worked out his brake bias was wrong, causing him to lock the rear wheels. Smiles and Martin jacked the car up and worked out it was a long way off, so on the 3rd timed run, Smiles was far more comfortable building his confidence ready for the 2nd top 12.
On the Steve's 3rd timed run, (qualification for the 2nd top 12), he finally got in the mood, focused for a good run but unfortunately Terry trying a bit too hard, had drifted too far and as Steve came round the bank section to massive cloud of dust followed by a red flag and Terry stranded on the infield. Steve got back to do a rerun, the tyres were still really good even though it was the third time out. Not quite as focused but put a good time in to qualify second behind Matt, who had already beaten Mark Smith's longstanding record. Come the Top 12, Matt was comfortably fastest but not a quick as his qualifying time. Steve was 2nd and Smiles had got his act together to grab 3rd, 3/100th behind Steve taking a huge chunk off his previous times. Unfortunately Terry missed out because of his over exuberance, which meant he hadn't qualified.
A good day out, the car is now consistently quick and only seems to require small set up changes to suit difference circuits.
Carole also had a great day, knocking over 2.5s off her personal best and getting into a 69s run, which was something the Bill had always wanted to do and scoring some good points in the Top12 at the same time.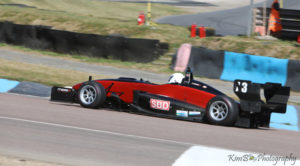 Matt at Lydden, July 2022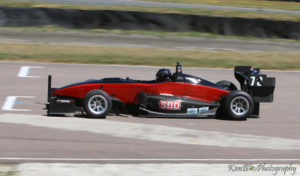 Steve at Lydden, July 2022
Carole's Report: A full day of sprint racing at Lydden Hill Circuit run by Borough 19 MC. It was another round of the British Sprint Championship. The previous year when competing I managed to achieve a few personal best times, my fastest being a 72.96 so my challenge this year was to better them and if possible get below a 70 second run. The weather had been predicted to be extremely hot, so the main concern amongst most of us competing was how to keep the tyres cool, but actually on the day although it was very warm the tyres were not showing too much sign of over-heating.
I walked the course with Steve, Matt and Steve Miles and we all discussed the appropriate lines during the walk and then queued up ready for the start. My first practice went well, although it felt a bit too cautious but my time was slightly slower than my fastest of the previous year, so happy with that.
The tyres were holding up really well and on my first T1 run I beat my fastest time from last year by over 2 seconds giving me a 70.90 and I still felt there was more speed to be gained having studied the videos to see where I was losing time.
My next run was disappointing, the time clock showed a slightly slower time on that run even though I felt I had pushed harder. On the following run I pulled out another PB time of 70.50 which was my fastest so far. The final run I was held on the start line a long time, so the temperatures were rising but fortunately the green light came and I completed my run to see the time clock show a 69.79. I was so pleased to not only get under the 70 second barrier but to achieve an incredible PB time. A fantastic day of racing with a great result.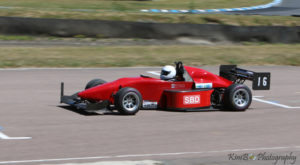 Carole at Lydden, July 2022
All pictures by Kim Broughton